Cooking Up a New Life
A local group of Syrian newcomers are creating friendships, camaraderie and income for their families through food in Hamilton's Karam Kitchen.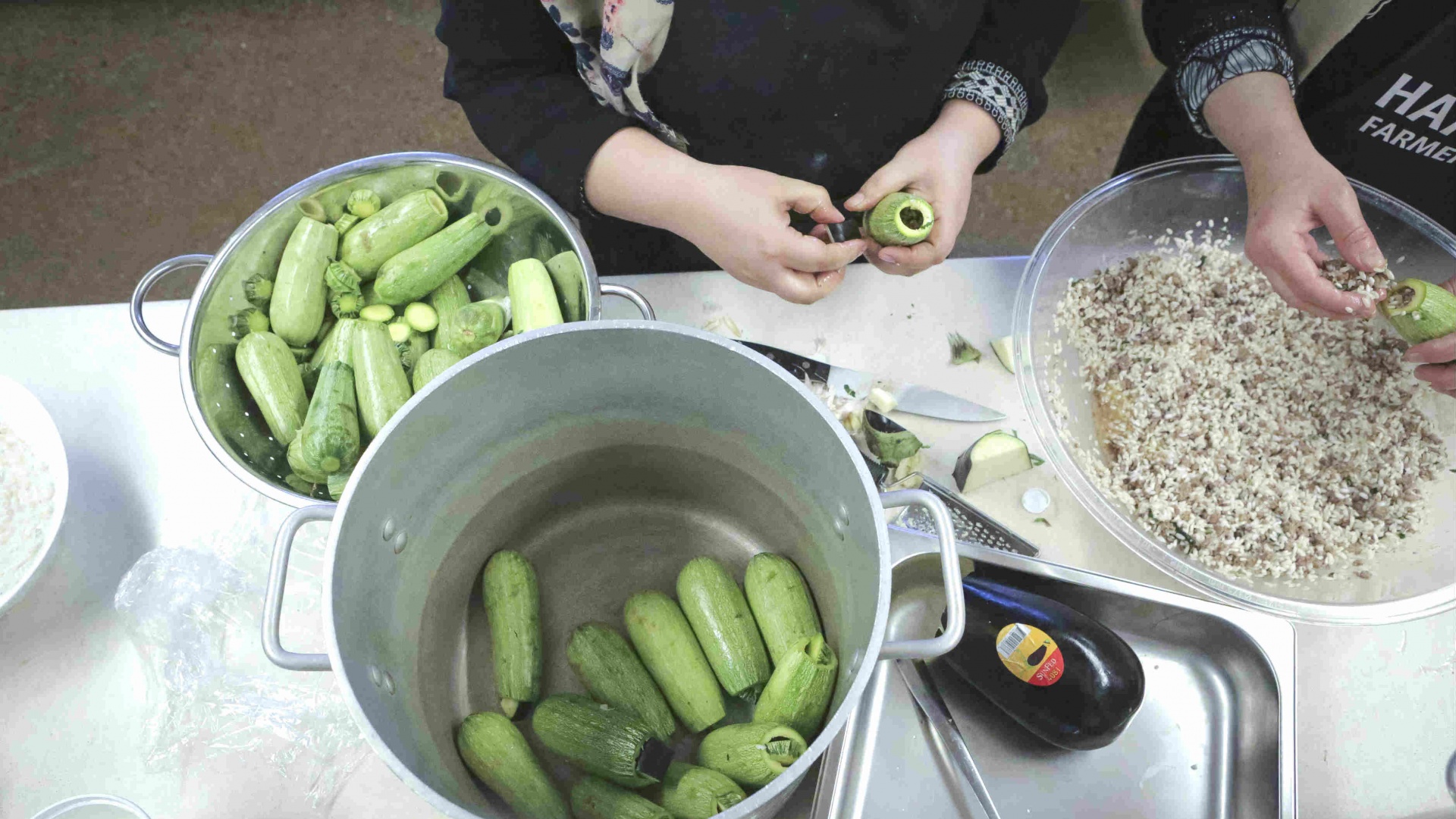 I'm inside a quiet kitchen at a community centre in Hamilton anxiously waiting to taste Middle Eastern smoked rice. It's a first for me. I've heard about this legendary dish many times, but I've never experienced it. I've never actually seen it on a menu before. 
My hosts are Manahal Al Shareef and Dalal Al Zoubi, two Syrian wives who recently immigrated to Canada with their families. Together they make up two thirds of the culinary team at Karam Kitchen, a pop-up catering initiative based out of Hamilton.

Karam Kitchen is spearheaded by organizer Brittani Farrington, who also seems to share my enthusiasm for the rice.

Eventually Al Zoubi motions for me, pointing to the large pot.

"The rice is ready," she says, slowly lifting the lid. A fragrant waft of steam and smoke billows through the room.

Al Zoubi reaches into the pot and pulls out a small plate with a fuming coal set in the centre of it. Earlier, the coal was doused in olive oil and placed inside the pot with the rice. The coal triggers the oil's smoking point, which aromatizes the rice during its final minutes of cooking.

The smells are reminiscent of a southern barbecue shack. Al Zoubi prepares a plate and slides it toward me.

This creation – long-grain rice cooked in chicken bouillon with cardamom and a variety of Middle Eastern spices, then smoked – is very special to her.

"This is my favourite dish," she says. "It reminds me of home. I hope you enjoy it."
Since November of 2015, Canada has welcomed more than 30,000 Syrians
The experience is delicately nuanced, not at all like eating smoked meat. With each spoonful, cardamom swells into your senses. This is as transcendent as rice gets.

Since November of 2015, Canada has welcomed more than 30,000 Syrians into the country. According to a recent report by the Senate Committee on Human Rights, approximately 5,900 were introduced to Toronto and nearly 1,400 settled in Hamilton.

Most newcomers receive aid from federal government support programs for their first year, but settling in Canada is nonetheless financially difficult for them. This is why Farrington launched Karam Kitchen: to provide income for newcomers in the form of catering opportunities and food sales.

The initiative operates like a nomadic supper club, using rented commercial kitchens to prepare feasts for small to mid-sized groups. It currently employs Al Shareef, mother of seven; Al Zoubi, mother of three; and Rawa'a Aloliwi, who is not present today as she is expecting her fourth child.

Farrington first became involved with Syrian families last March.

"A few Syrian newcomers needed a ride back to Toronto from Hamilton, so I wanted to do my part," she says.

The group of newcomers had all signed fresh leases on house rentals in Hamilton. They were moving away from Toronto due to rising housing costs, and they needed to return to Toronto to pick up their belongings and escort their families to their new homes.

"We couldn't afford housing in Toronto," Al Shareef says. "It was crazy everywhere. We then looked at Mississauga, Burlington. Then a friend from Hamilton told me to look here. He said Hamilton is very affordable."

Al Shareef's husband was part of the group, as was Al Zoubi's husband. Both families are originally from Kafr Darak, just outside of Damascus.

"Relocating was very tricky for them," Farrington says. "Because they were settled in Toronto and moved to Hamilton, they were now secondary migrants. They needed help."

Farrington approached her local Christian church community, and social media, for donations. The community responded quickly and generously.

Al Shareef – who has been her family's primary caretaker since her husband was badly injured during the Syrian crisis – says she was overwhelmed with the outpouring.

"Her husband was caught in an air strike," Farrington says. "He hid behind a building and was buried alive when it fell on him. He was pulled from the rubble, but he sustained many injuries. It wasn't until three or four months ago that he was able to walk again."

The real spark for Karam Kitchen came when a local church invited the families to attend a dinner reception. Farrington approached Al Shareef, Al Zoubi and other new families with the invitation.

"I told them that the church wanted to host them for dinner and welcome their families to their new city," Farrington says.

But Al Zoubi insisted that if they were going to be hosted, they should cook.
"They wanted to cook the food," Farrington says. "They wanted to show us a side of Syrian culture."

The gathering was a resounding success, with everyone sitting on the floor enjoying mounds of home-cooked Syrian food as they were introduced to each other.

"I'm Christian, and these women are Muslim, but we learned that we just have so much in common," Farrington says. "We bonded really quickly."

Al Zoubi was quick to notice that everyone loved the meal, and later that evening she approached Farrington with a question: "How can I sell my food in Canada?"

Farrington consulted with her peers and the city, and the roots for Karam Kitchen began to form. It was equal parts employment and an opportunity for the newcomers to give back to the community that has embraced them. 

Farrington used Kickstarter to raise funds for the program. She set her initial goal at $6,500 and ended up raising $17,000.

A few months later, Farrington hosted a group tasting to develop the Karam Kitchen menu. Al Shareef, Al Zoubi and Aloliwi created over 20 traditional Syrian dishes. City staff were quick to assist Farrington with the necessary paperwork she needed to allow the women to cook, along with helping them find commercial kitchens in the city.

Within a few weeks Farrington was able to get the trio cooking for small events and pop-ups. These days, Karam Kitchen averages two to three catering orders a week.

Al Zoubi is still surprised by how everything came together.

"In Syria, everyone knows how to cook. I learned when I was 12," she says. "I can't believe so many Canadians want me to cook for them, but I am so happy to do so." 
Hamilton isn't new to Middle Eastern food. There are a number of mom-and-pop shops set up from the top of the mountain to downtown. One notable gathering place is Samir Super Market & Kabab, known for its meat counter and imported goods.

When I stopped in to ask for dinner recommendations, the lady at the counter quickly wrote up a list of local go-tos, indexing by specific dishes I should order. Still, there isn't a lot of Syrian food in Hamilton – not yet, at least.
I can't believe so many Canadians want me to cook food for them
"No real Syrian restaurants, but two coming very soon," she said.

Syrian food seems similar to Turkish, Iraqi or Lebanese cuisine at a first glance. But there are subtle differences. Syrian food is heavily seasonal, and it makes ample use of baharat mushakalah, an intoxicating spice blend consisting of black pepper, cloves, cumin, coriander and other spices.

If I had to describe Syrian cuisine in a nutshell, it would be that every dish plays out its flavours in a soothing symphony. Almost every dish I have tried is finely balanced, without any stark flavours standing out.

Despite having never worked while she was in Syria, Al Shareef is ecstatic at the idea of cooking food for Hamiltonians.

"We want to keep working," she says as she preps kousa mahshi, one of her specialties.
It's a dish of minced beef, baharat spice and rice stuffed into zucchini and cooked in tomato sauce. After packing the kousa mahshi, she tends to the nearby fryer, where fresh kibbeh is cooking.

Kibbeh is arguably the quintessential sharing plate in Syria, with a multitude of variations from town to town. Al Shareef's is a torpedo-shaped mix of bulgur (cracked wheat), onions, ground meat, Middle Eastern spices and mint. It's deep fried to a dark brown and served with yogurt or on its own. Really, though, it's all about the mint.

"Yes, we love our mint," Al Zoubi says.

Moments later, Farrington's phone buzzes with another order inquiry.

"We'll be feeding a few city groups in January. More offices, and there are also a few parties later in the month," she says, noting that she hopes to add two more cooks to the team by the end of the month. "It's very important to me that the ladies are compensated fairly for their work. They're paid hourly, and all the tips that we receive are split up between them."

The biggest hurdle that Karam Kitchen currently faces is the lack of a permanent home. Without a kitchen of their own, the group has to lug around warmer bags, large carts and pots and pans. But there's hope in the near future. Farrington has managed to find a local church with a fully functioning kitchen that the ladies will be able to use full-time for future orders.

When I ask them how they feel about working out of a church, the response is immediate: they can't wait to cook there.

"They don't want to take any breaks," Farrington says. "And the roles are reversed here. They are now the breadwinners."
The biggest hurdle that Karam Kitchen currently faces is the lack of a permanent home
Farrington is referring to the fact that while the women were able to find employment through the pop-up kitchen, the husbands are unemployed and in school.

Al Zoubi praises Karam Kitchen for empowering her and her fellow newcomers. In the near future all three families will lose their year-long support from the federal government and will transition into the Ontario Works program, which provides financial and employment assistance.

"It's an important time for them. Their families are not small and they need all the help they can get," Farrington says.

Watching Al Zoubi manage the kitchen, there is a distinct aura of confidence.

"She's the leader of the pack," Farrington says. "She runs the show and she does it well."

As my time at Karam Kitchen comes to an end, I ask Farrington how the ladies feel about having the chance to preserve their food culture here in Canada.

After a moment of silence, she says, "I don't know if they understand that fully. They want to take care of their families. I know in their hearts that they want to go back home, but I don't think they're going to be able to do that in their lifetime."