Flavour of the Week: Bang Sue
Khao San Road's late-night snack bar puts Thai twists on classic cocktails along with a stellar menu of bar snacks and bites to boot.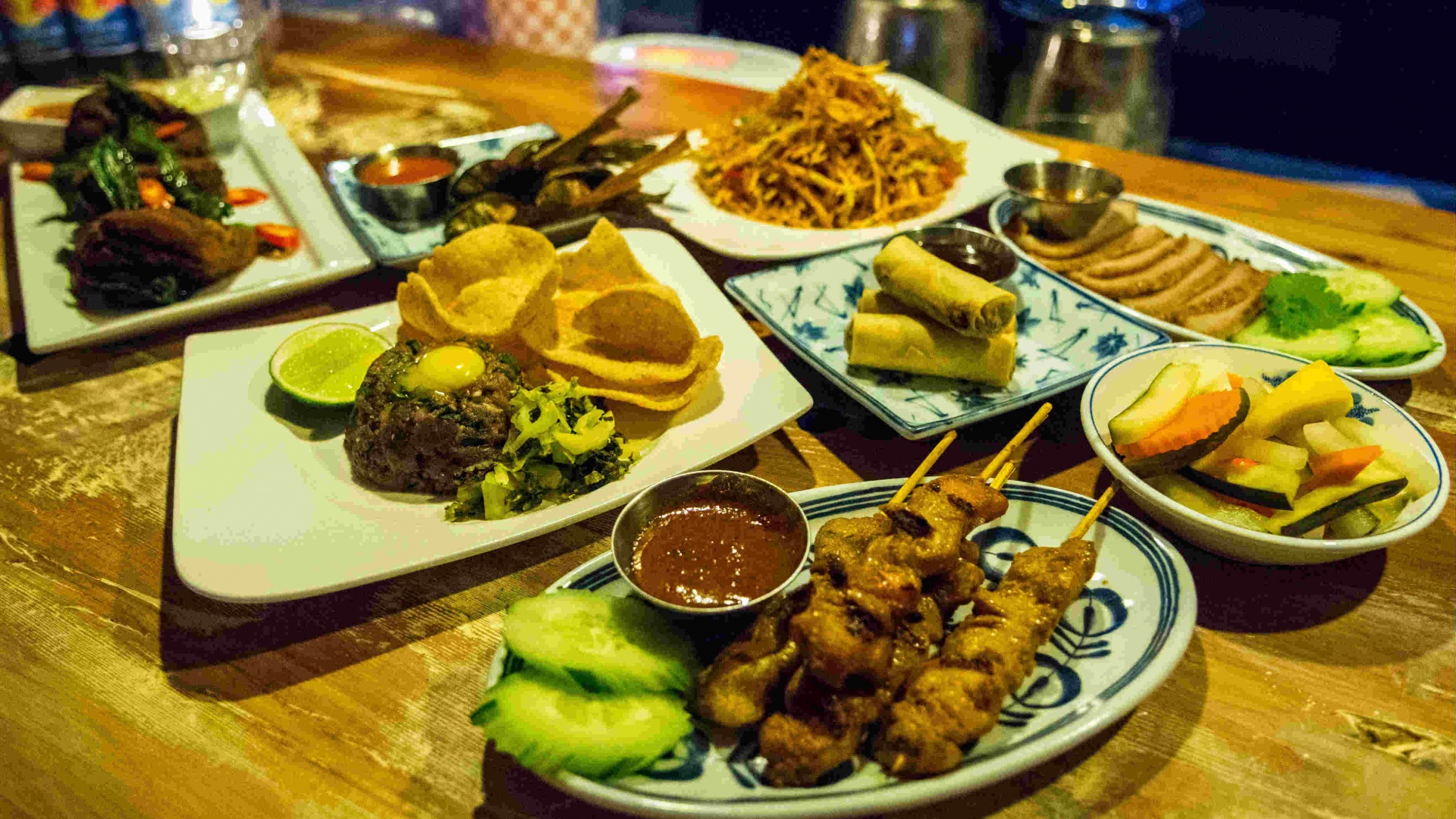 What's the Vibe
When Khao San Road relocated to slightly larger digs in the lofty main floor of a new condo development on Charlotte Street (complete with a second-floor mezzanine) additional seating for the constantly packed eatery would have been fitting. But instead, owner Monte Wan decided to transform the 50-seat space into a new snack bar concept, letting chef Chantana 'Top' Srisomphan get a little more creative with the food menu along with offering a proper cocktail list.
Bang Sue, named after a subway stop and district in Bangkok, boasts a fun street market vibe thanks to baskets of dried herbs and spices with cardboard signs scrawled in Thai. While the bar might get its start hosting the overflow of impatient diners from the Khao San Road line, we think it won't be long until this becomes a food and drink destination in its own right.
What to Drink
Chili and spices play a prominent role in Bang Sue's cocktail list, putting Thai twists on classic recipes. The Bang Sue Special is the bar's take on a rum sour, with coconut cream and tart lime to balance out the beverage and a touch of unexpected heat from a chili galangal syrup. View on InstagramThe Louis C.K., features Siete Misterioso mescal with Ancho Reyes chili liqueur, ginger syrup and just a few drops of a potent Thai chili tincture made in-house to create an oddly addictive sweet-meets-savoury sensation.
Bang Sue's beer list brings things closer to home with local breweries like Blood Brothers, Collingwood Brewery and Muddy York featured prominently among its 18 taps – a definite upgrade from Khao San Road's singular beer offering.
What to Eat
The food menu here caters to both nibblers and those hungry enough for a full-on meal. Shrimp chips with a spicy Nam Prik Noom chili sauce are a fun take on the usual chips and dip while the four-flavour caramel corn made by Millie Patisserie is dangerously moreish. For something more substantial, try the pork jowl: lean slices dressed with umami-ful Flying Tiger chili sauce (lime, chili, fish sauce and ground roasted rice) made in-house. And if you get the pandan chicken, just make sure you unwrap the leaf that envelopes the small bites of chicken as it's meant to add a bit of flavouring, as opposed to being eaten.
A visit to Bang Sue wouldn't be complete without an order of the Khanom Krok – another sweet-and-savoury winner that pairs coconut custard with green onion. Sounds weird, but trust us when we say it's a tasty combination.

Dinner and drinks for two: around $80

11 Charlotte Street, khaosanroad.ca