Flavour of the Week: Estia
Deliciously fresh fish and shareable dishes take centre stage at this refined Mediterranean eatery in Yorkville.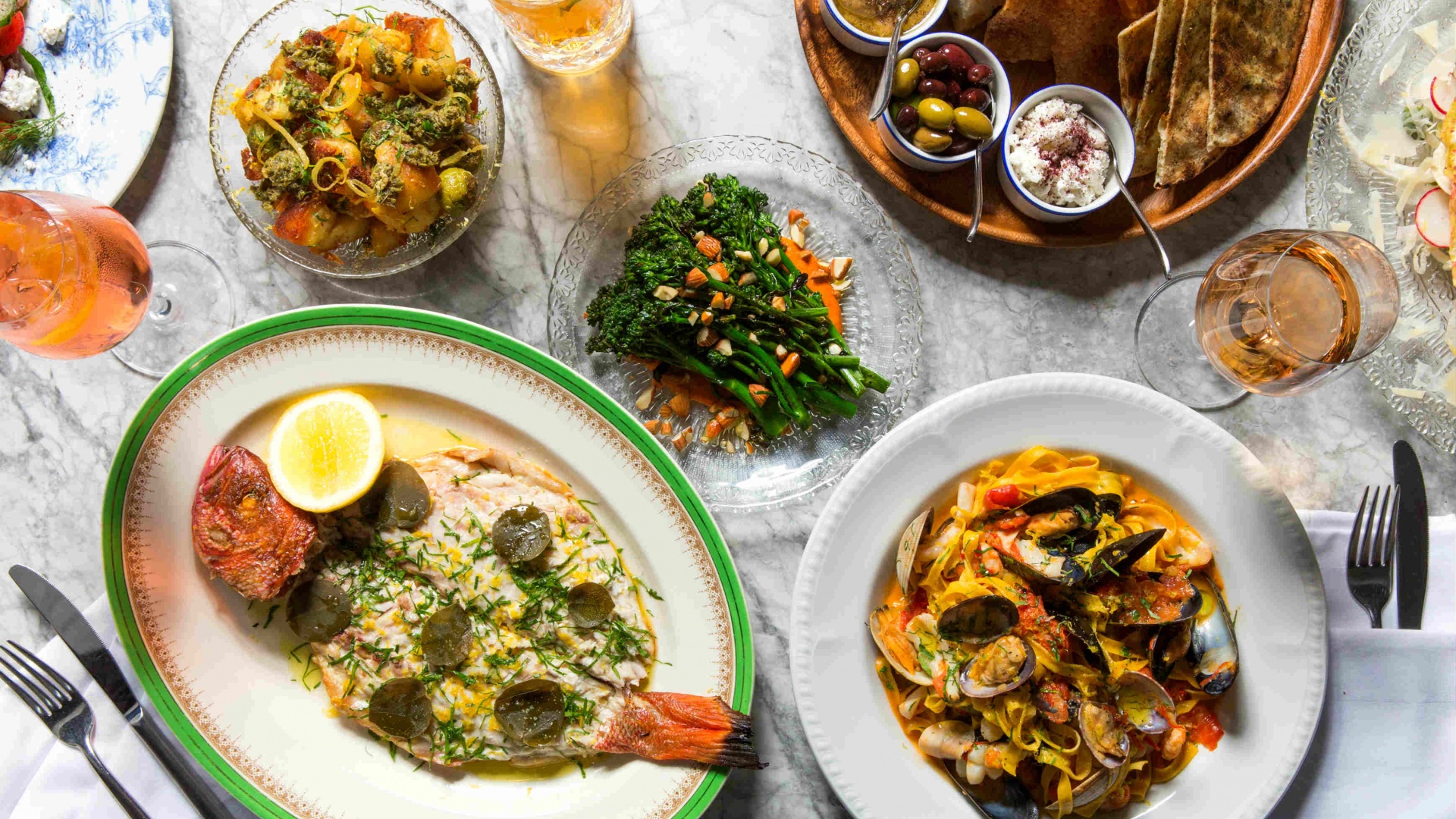 What's the vibe? 
The ICONINK team (Byblos, Figo, Patria) quietly closed the doors of NAO Steakhouse a few months back and just in time for the summer, the Avenue Road location has been reopened as Estia, a Mediterranean themed spot focused on light shareable fare. According to the ICONINK team, the change was a response to the evolving eating trends in the city with people opting for places with more diverse, shareable options. The framework of the heritage building remains the same but with some significant renos done on the decor to brighten up the space. Most seats in the dining room have a great view into the kitchen, and the two storey bar is a great spot to pull up a seat and taste a few cocktails. But the best seat in the house (at least for the next summer months) is on their front terrace, a cozy green oasis facing Avenue Road.
What to drink?
In keeping on theme, cocktails are no fuss with simple, fresh botanical and herb ingredients. The Lavender Lemonade is a refreshing cocktail with an unexpected kick to it from dashes of Babatzim Ouzo. They also do a killer take on an Aperol Spritz, with theirs, the Estia Spritz, featuring rosé, lemon, lychee, soda, bitters and grapefruit zest. The wines mainly helm from the Mediterranean regions to complement the food but there's a good mix of old and new world options thrown in for a nice and comprehensive list. Tucked away near the kitchen is the restaurant's impressive Digestif Trolley with the usual amaro, grappa and brandy options mixed in with a variety of ouzu aiming to prove that, yes, there's more to ouzu than just black licorice and these bottles will highlight that. 
What to eat?
View on Instagram
Executive chef Ben Heaton, who worked in the kitchens of other ICONINK properties Figo and La Société, has created a menu meant to tour the flavours of the Mediterranean, specifically Greece, Italy and Spain. At some point almost all items on the menu touch the kitchen's authentic wood fired oven so a smokiness runs through every bite. 
Wherever possible, things are made in house, including their own breads, cheese and yoghurt and there's a meat fridge in the basement curing salami and other antipasti. There's plenty of small plates to tuck into like calamari, seared halloumi and grilled octopus along with larger mains like their seafood linguine and – perhaps the last remaining remnants of NAO – a 14oz bone-in daily cut of steak. We recommend a few of these to warm you up for the standout on the menu: their daily fish offerings flown in fresh from Greece and New Zealand. When we visited, it was a Greek Branzino cooked in the wood oven, topped with caper leaves and served whole to share. In addition to a simple olive oil seasoning, nothing else is needed to enjoy it. There is a healthy dessert menu is well, and it's perhaps the heaviest part of the menu, so do save room if you can. 
Dinner and drinks for two: around $175 
90 Avenue Road, 416-367-4141, EstiaToronto.com.