Who has Toronto's best steak?
Wondering where to find the best steak in the city? So are we. We're on the hunt for Toronto's best cut and we're bringing along some bona fide meat lovers to help us find it.
Published: Monday 17th April 2017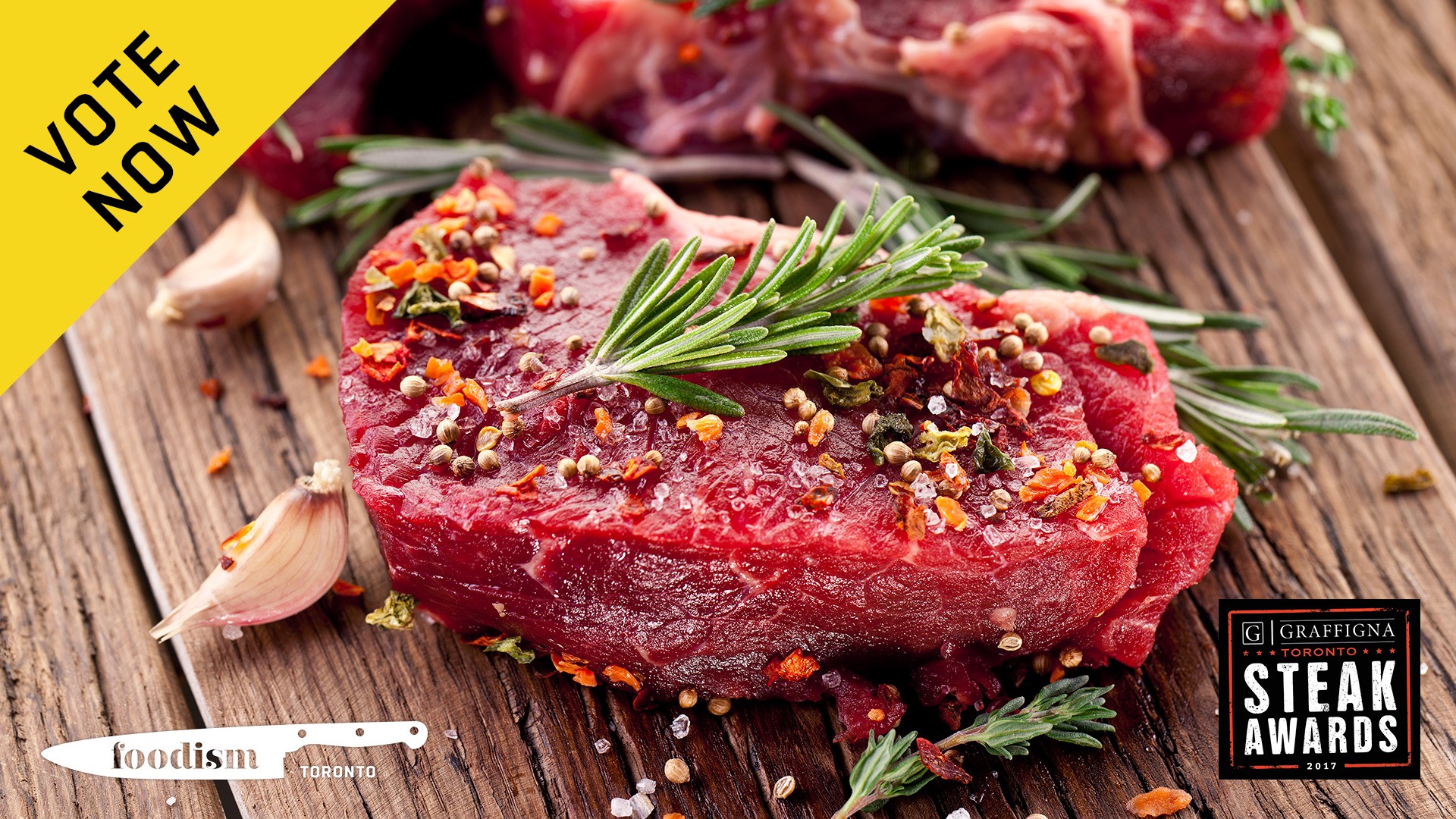 Toronto has a long history as a steak town. Throughout the years, the financial district has been ground zero for anyone seeking an expensive cut of meat and a tall, rich glass of malbec. But now hip new restaurants on Dundas West, King West, Ossington and other hot neighbourhoods are getting in on the action, too. These days you don't have to look for white tablecloths to find a gorgeously marbled, dry-aged, prime cut of meat seared and seasoned to utter glory.
Our ever-evolving restaurant scene continues to affirm that we're a city that knows how to appreciate a properly cooked cut of beef. So we're proud to announce that Graffigna – one of Argentina's best wineries – is bringing its esteemed Steak Awards to Toronto.
This spring, our carefully curated panel of judges (meet them below) will visit four restaurants across the city to determine which one serves the best steak. Will it be an old school spot or a new school joint? Formal or casual? Downtown or off-the-beaten path? We have no idea, but we're ready to do the "work" to find out. And of course, we'll be sure to share the results of our all-important mission with you.
WE ASKED. YOU VOTED. 
We shortlisted the first three venues and we asked YOU to determine the last spot our judges will visit. Over the last few weeks, you nominated your picks across our social media channels and we've tallied the votes. Keep on reading to find out who nabbed the fourth spot.
The overall winner will be announced in issue five of Foodism, coming out in June.
THE JUDGES
Suresh Doss 
Editor of Foodism Toronto
Our editor loves a good steak, so naturally he's come on to lead the hunt to find the best one in the city. Suresh is a long-time Toronto food and drink writer who loves to eat across the GTA and regularly hosts food tours throughout the suburbs. He is also a contributor to publications such as the Globe and Mail, Toronto Life, Post City and Eater. Most recently, he was a guest judge on this years Top Chef Canada All-Stars.
Michael Hunter 
Head chef and owner of Antler
You'd be hard pressed to find a chef in Toronto as passionate about meat and wild game as Michael Hunter. After wooing the financial district crowds at Reds Wine Tavern, Hunter opened his own wild food-inspired restaurant on Dundas West in late 2015. Antler has quickly grown to become one of the top spots in the city due to Hunter's focus on redefining and re-imagining Canadian cuisine with a modern touch. 
Peter Sanagan
Owner of Sanagan's Meat Locker
One of the best butchers in Toronto – if not the best – Peter Sanagan is an authority on all things meat-related. His client list includes many of the city's top restaurants and he also operates his own butcher shop in Kensington Market. Before opening his first store, Sanagan was a chef at various high-end restaurants such as Mistura and Auberge du Pommier meaning he'll bring a well-rounded voice to the panel.
Natalia Manzocco
Food writer at NOW Magazine
As the resident food writer for Now Magazine, Natalia Manzocco covers the most fascinating trends in Toronto's restaurant scene. The role has also resulted in her trying her fair share of steak across the city. She has written for the National Post, Toronto Sun, blogTO Metro, and Fodor's, among other publications. When she's not writing, she organizes Pink Market, Toronto's LGBTQ craft fair.
THE VENUES