Make This: Bannock's Mac and Cheese Monte Cristo
If you were one of those kids who couldn't eat a bowl of mac and cheese without the addition of sliced up hot dog, then this gloriously decadent sandwich has got your name on it. Bannock replaces the hot dog with mortadella, plus adds challah bread and red pepper jelly to turn this childhood classic into a grown-up sandwich.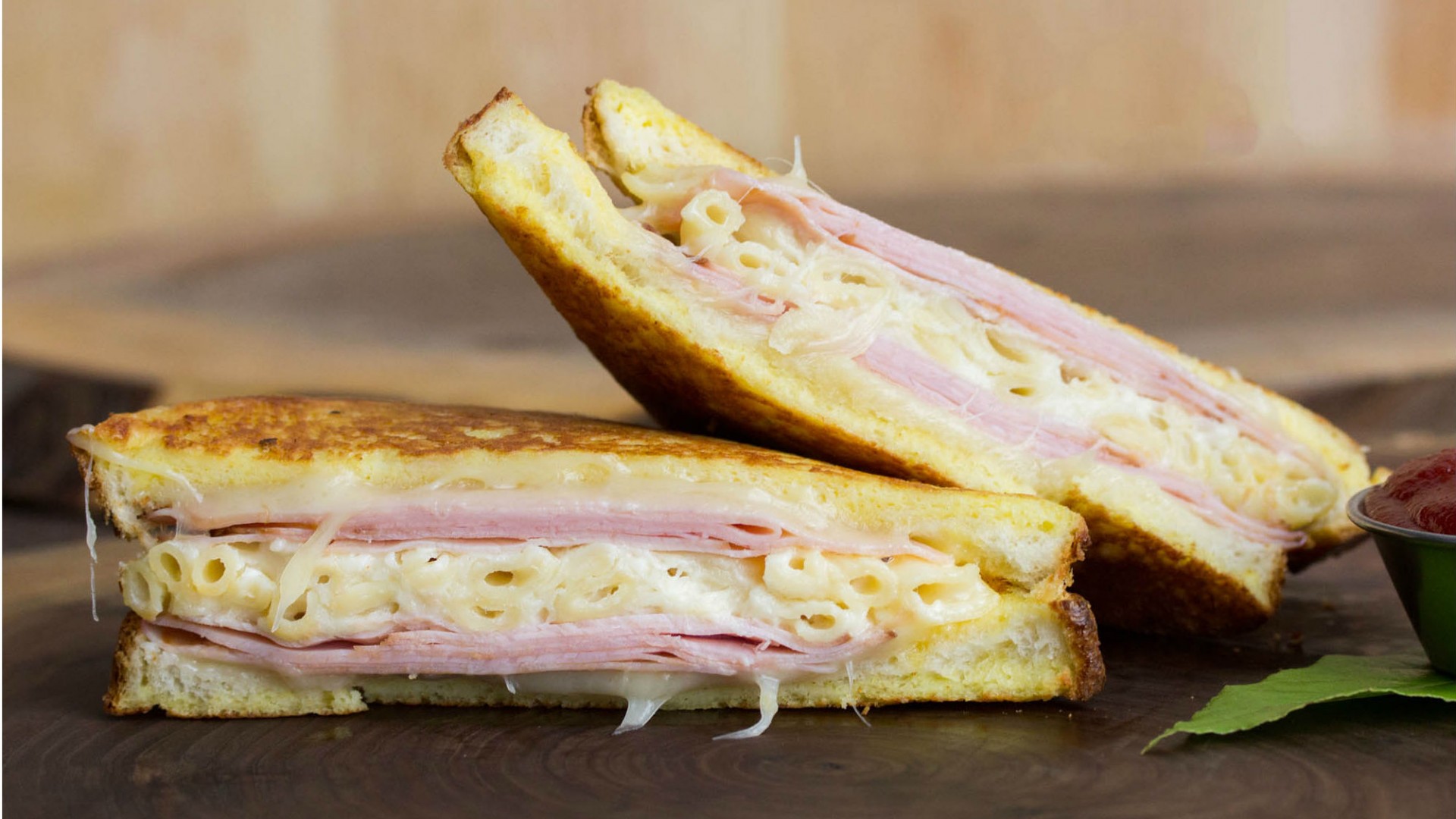 (Serves 4)
Ingredients
Mac and Cheese
200 g raw macaroni noodles
250 mL grated Gruyère
250 mL grated Gouda
375 mL 35% cream
½ vidalia onion
1 bay leaf
2 cloves
3 tbsp all-purpose flour
Salt and pepper, to taste
Red Pepper Jelly
600 g roasted red peppers, skins and seeds removed
4 g chili flakes
150 g white sugar
90 mL white wine vinegar
4 g kosher salt
Sandwich
8 slices of challah bread, sliced about 3 cm thick
16 slices of shaved mortadella
8 slices of aged cheddar (one slice should be large enough to cover entire slice of bread)
3 whole eggs
250 mL milk
Butter
Nutmeg, to taste
Kosher salt, to taste
Method
To make the red pepper jelly, combine all the ingredients in a small pot and bring to a simmer. Turn the heat down to low and cook until reduced by half. This should take about 30-40 minutes. Blend the finished mixture with an immersion blender and chill thoroughly (ideally overnight). 
In a medium saucepan, bring the cream to a simmer and steep with the bay leaf, onion and clove for about 10 minutes. In a separate bowl, toss the grated cheeses with the flour. Raise the temperature on the cream to a low boil and slowly whisk in the cheese and flour mixture until completely melted. Turn the sauce down to low and allow to cook for about 15 minutes, stirring constantly. Add salt and pepper, to taste. Cook the macaroni in a separate pot of water. Strain finished sauce over hot noodles. Mix together and set aside.
Preheat oven to 375F. Whisk the eggs and milk together, and season with grated nutmeg and salt to taste. Lay the bread out in four sets of two. Lay one slice of cheddar over each piece of bread. Fold the mortadella in half, creating a rounded triangle, and lay two slices on each piece of bread. Place as much mac and cheese as you can onto four of the bread slices, and top with the opposite piece of bread. Soak each sandwich in the egg and milk mixture, about one minute per side.
Preheat a non-stick pan on medium and melt a dab of butter. Cook sandwiches as you would French toast, frying on either side until the bread is a rich brown colour. Transfer the sandwiches to a baking sheet and bake for 10 minutes, until cheese is completely melted.
Allow to rest for five minutes, slice and serve with red pepper jelly.