Make This: Toben Food by Design's Lobster Pappardelle "Carbonara"
This elevated take on a traditional spaghetti carbonara is perfect for cozy, winter nights in. If you don't have the time (or motivation!) to make the pappardelle pasta from scratch, try serving the elegant sauce over your favourite store-bought pasta for a quick version of the recipe.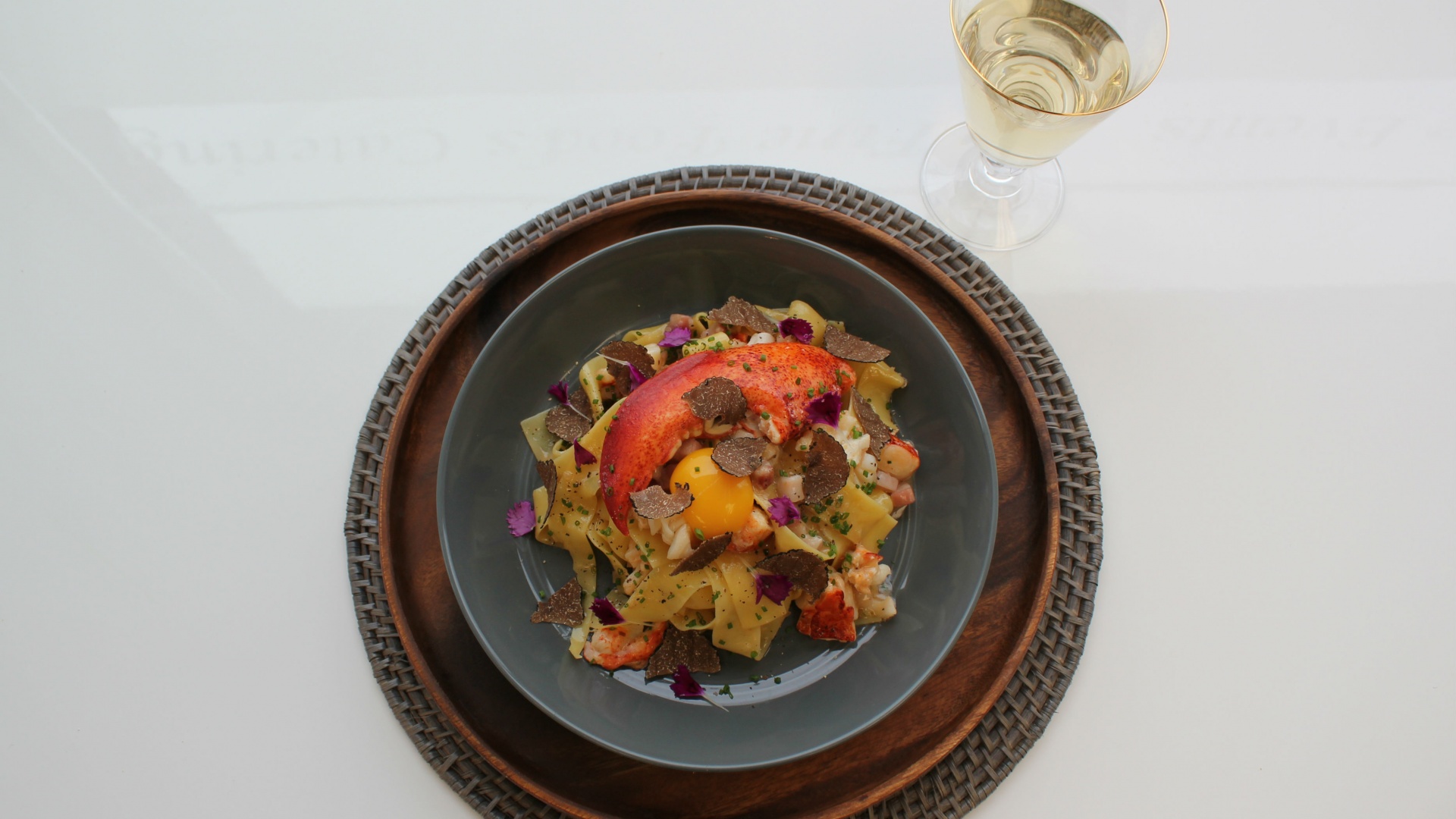 Ingredients
Pasta
300g all purpose flour
3 whole eggs
1 tbsp olive oil
1 tbsp salt
Sauce
2 shelled and cooked lobster tails (approx. 3-4oz each clean weight), cut into 1-inch chunks
2 tbsp extra virgin olive oil
1 shallot, finely minced
½ cup dry white wine
1 cup pancetta, cut into ¼ inch chunks
2 tbsp of chives, chopped
2 egg yolks (keeping each separate)
¼ cup grated Parmigiano-Reggiano cheese
300g hand cut pappardelle pasta
15-20g freshly shaved black winter truffle (or 1 tbsp white truffle oil)
2 tbsp unsalted butter
Salt and pepper, to taste
pasta water, as needed
Method 
Using a large stand tabletop mixer, combine the flour, salt and olive oil in a mixing bowl at medium speed. Add in one egg at a time and turn the mixer up to medium-high speed. Continue mixing on medium-high speed for 3-4 minutes, allowing the dough to knead and come together. Place finished dough into an oiled mixing bowl and let rest in the refrigerator for 20-30 minutes.
Place dough onto a well-floured surfaced and divide into 4 quarters. One at a time, roll out each quarter using a hand crank pasta roller to create long, thin rectangles (usually thickness level is 8 or 9 on the rolling attachment). Cut pasta sheets into ½ inch strands and set aside on a floured baking sheet until ready to cook. Bring a very large pot filled with heavily salted water to a boil. Drop fresh pappardelle into the pot and cook for 3-4 minutes (the pasta should still be firm, or "al dente"). Reserve about a cup of the cooking water.
While the pasta is cooking, heat a heavy bottom sauté pan on medium high heat. Add the diced pancetta and sear until golden brown. Add the chopped shallots and sweat out for 1-1.5 minutes. Add the white wine and allow to simmer and reduce for 1 minute. Add the cooked pasta, butter, cooked lobster meat and toss together. If the mixture is dry, add 2-4 tablespoons of pasta cooking water. 
Season to taste with salt and lots of freshly cracked black pepper. Place cooked pasta in bowls and top with one egg yolk per bowl and lots of freshly shaved black truffle or white truffle oil.